How to Get your Office into Shape
12 September 2013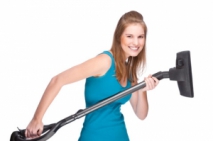 Your office needs to be in tip-top shape at all times to ensure you're able to work to the best of your ability. Making sure you keep your office tidy and organised will help cut-down on unnecessary stress at work, so if you're looking to get your office into shape then have a look at this list of handy hints, tips and tricks to get your started.
- De-clutter.
To get your office clean and tidy you're going to have to start by getting rid of all the items and paperwork that you're not going to need. It's easy for your office to become crowded and messy with your busy workday, so if you're looking to keep your office tidier then start by getting rid everything you're not going to need.
- Get rid.
Your office is bound to become home to broken items – everything from pens without ink to empty printer ink cartridges can become a nuisance over time. An office clear-out is the best opportunity to test out and get rid of anything that no longer works. You may be surprised at how much room this can free-up in your office!
- Upgrade.
If you struggle to keep your office tidy at all times then it might be time to consider upgrading your storage solutions or even your desk, so you can make more room for your necessary paperwork, stationary and files. Try opting for something with more drawers and cupboards – consider your office needs and pick your new storage solution accordingly!
- Storage.
It's likely that you have a lot of files and paperwork that you want to keep but might not necessarily need in the near future. If this is the case for you then maybe you should consider hiring a storage facility to store everything your office is getting just too small for. At the very least you should organise items like this and store them in clearly-labelled cardboard storage boxes. This is a great way to cut down on clutter and keep organised – if you can find a space out of the way to store these boxes then even better!
- Changing your habits.
Once your office is looking tidier and clearer it's time to reconsider your habits and attitudes to ensure you can keep it looking its best. Here are some great tips to help get you started:
- Try keeping a recycling bin with separate compartments in your office so that you can keep your rubbish to a minimum.
- A can of compressed air is a fantastic and easy way to get your computer keyboard clean in a matter of seconds. This is a great option to keeps crumbs at bay if you eat in your office. Compressed air will also get rid of trapped dust in your computer fan, which is going to keep it in better shape for longer.
- If you eat at your desk this is a habit you might want to break if you can afford to do so. Eating at your desk isn't just going to make crumbs, but you're also likely to leave wrappers, packaging and be stuck dealing with unwanted food odours. Try to find the time to eat elsewhere – if only to get out of the office for a short while!